UPCOMING EVENTS:
---
SCOTT COUNTY REPUBLICAN WOMEN MEETINGS:
Luncheon meetings are held from 11:30AM – 1PM on the 2nd Monday of the month at:
Tanglewood Hills Pavilion
4250 Middle Rd, Bettendorf, IA 52722.
Meeting is $15 with a buffet lunch included.
2023 Lunch Program Dates:
January 9th – Texas businessman and pastor, Ryan Binkley will be speaking on The Way To Freedom.
February 10th (FRIDAY) – We are so excited to announce that Kari Lake will be our featured speaker! 
March 13th – Scott County Updates with speakers: Auditor Kari Tompkins, Treasurer Tony Knobbe
April 10th – Steve Scheffler and Chris Hagenow
May 8th – Althea Cole, an opinion columnist at the CR Gazette.
June 12th – Senators and Representatives from Scott County
July 10th – Border Update and Davenport Police Department
August 14th – Author Loren Spivack
September 11th – Representative Bobby Kaufmann
October 9th – Come learn about the important topic of ESG (Environmental Social and Governance)
November 13th – Program TBD 
December Holiday Luncheon at the Outing Club, Davenport. Date: TUESDAY, December 21, 2023
REPUBLICAN WOMEN @NIGHT 
Held every month at:
Tanglewood Hills Pavilion
4250 Middle Rd, Bettendorf, IA 52722
Dates/Times will differ depending on the speaker's schedule.
Appetizers and Cash Bar
Cost will be $10 unless otherwise noted. 
2023 @Night Program Dates:
Make sure you mark your calendar and invite your mom, sister, girlfriend, or neighbor to join us….
OCTOBER 5th!!!!
The evening will be a celebration of Republican Women. Connect and network with like-minded women while learning from Iowa's extraordinary female leadership!
This is an evening you do not want to miss!
You must register ahead of time!
Get your tickets here: https://lp.constantcontactpages.com/ev/reg/cuqt9bg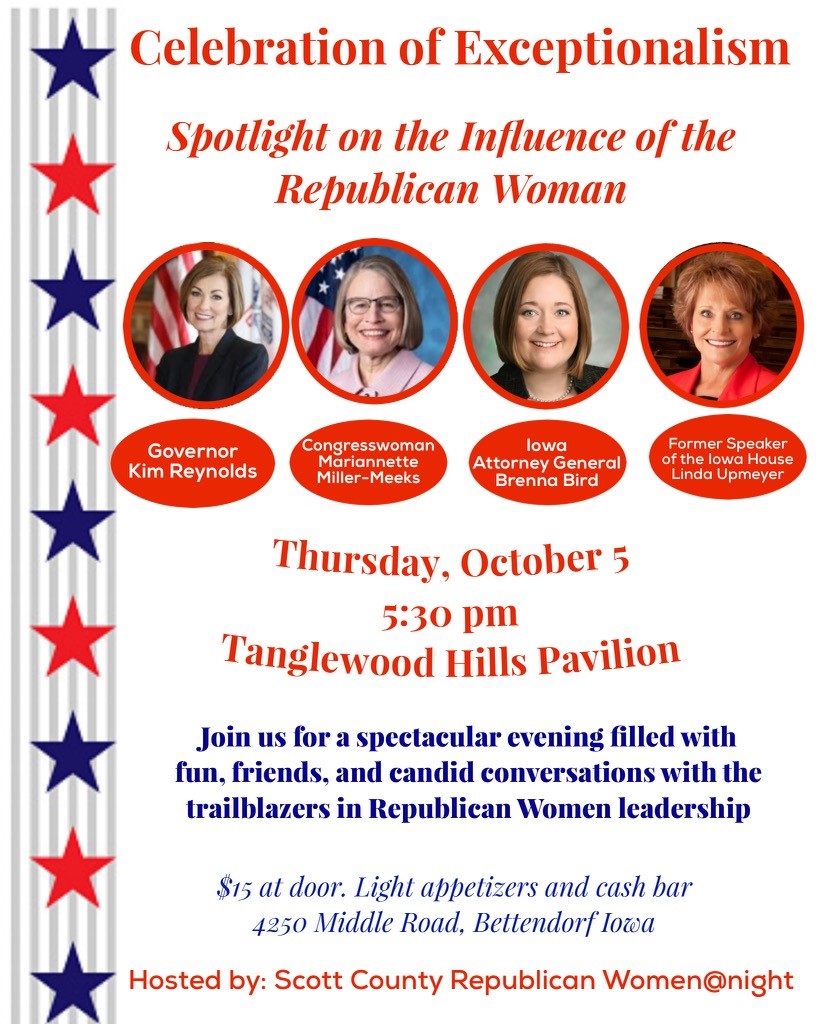 *You must be registered to attend*