UPCOMING EVENTS:
---
SCOTT COUNTY REPUBLICAN WOMEN MEETINGS:
Luncheon meetings are held from 11:30AM – 1PM on the 2nd Monday of the month at:
Tanglewood Hills Pavilion
4250 Middle Rd, Bettendorf, IA 52722.
Meeting is $15 with a buffet lunch included
2023 Lunch Program Dates:
January 9th – Texas businessman and pastor, Ryan Binkley will be speaking on The Way To Freedom.
February 10th (FRIDAY) – We are so excited to announce that Kari Lake will be our featured speaker! 
March 13th – Scott County Updates with speakers: Auditor Kari Tompkins, Treasurer Tony Knobbe
April 10th – Program TBD
May 8th – Program TBD
June 12th – Program TBD
July 10th – Program TBD
August 14th – Program TBD
September 11th – Program TBD
October 9th – Program TBD 
November 13th – Program TBD 
December Holiday Luncheon at the Outing Club, Davenport. Date: TBD
REPUBLICAN WOMEN @NIGHT 
Held every month at:
Tanglewood Hills Pavilion
4250 Middle Rd, Bettendorf, IA 52722
Dates/Times will differ depending on the speaker's schedule.
Appetizers and Cash Bar
Cost will be $10 unless otherwise noted. 
2023 @Night Program Dates:
EXCITING ANNOUNCEMENT!!
We are THRILLED to welcome back Vivek Ramaswamy to the Scott County Republican Women @night!!!
You may recognize him from Fox News where he's a regular contributor. He's also the author of "Woke, Inc." and "Nation of Victims"
He joined us a year ago and was an extraordinary speaker with a wealth of knowledge. We were very excited when his team reached out to ask us to host him again!
***𝐎𝐧𝐞 𝐥𝐢𝐭𝐭𝐥𝐞 𝐧𝐨𝐭𝐞…𝐞𝐯𝐞𝐧 𝐭𝐡𝐨𝐮𝐠𝐡 𝐭𝐡𝐢𝐬 𝐢𝐬 𝐛𝐞𝐢𝐧𝐠 𝐨𝐫𝐠𝐚𝐧𝐢𝐳𝐞𝐝 𝐛𝐲 𝐨𝐮𝐫 @𝐧𝐢𝐠𝐡𝐭 𝐠𝐫𝐨𝐮𝐩 𝐭𝐡𝐢𝐬 𝐰𝐢𝐥𝐥 𝐛𝐞 𝐚 𝐋𝐔𝐍𝐂𝐇 𝐇𝐎𝐔𝐑 𝐦𝐞𝐞𝐭𝐢𝐧𝐠.
So plan now, invite friends, and join us 𝙏𝙃𝙐𝙍𝙎𝘿𝘼𝙔 𝙁𝙚𝙗𝙧𝙪𝙖𝙧𝙮 23 𝙖𝙩 𝙉𝙊𝙊𝙉 for a delicious lunch and fantastic speaker!
Not only will you hear an AMAZING speaker but your lunch is going to be COMPLIMENTARY!!
PLUS….the first 100 guests will receive a FREE AUTOGRAPHED copy of Vivek's book!
So!! Who's joining us for a FREE delicious lunch and phenomenal program on February 23?!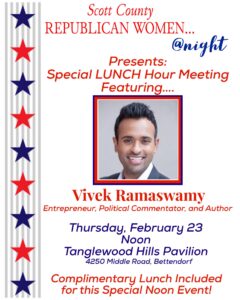 ---
Look for more Upcoming Events for Scott County Republicans on their website at: http://scottcountyrepublicans.org/
Facebook Feed: